In this post, we are going to talk about how to get your PC ready for online schooling and classes. As the current situation has forced schools and colleges to move to online classes entirely, it is important to prepare your PC for the same. Here, we are going to discuss various important tips that you can follow that will help you get your computer ready for online schooling and classes.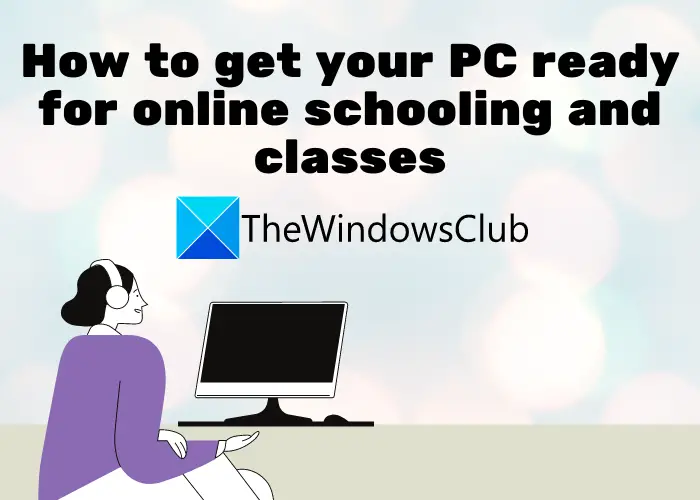 What kind of computer do I need for online classes?
There are some basic specifications that your computer needs to meet for online classes. For example, your PC should have a minimum of 4 GB RAM, high-speed internet, webcam, microphone, etc. We have shared the basic requirements below that you can check out.
How to get your PC ready for online schooling and classes
Here are the important tips that you need to take care of for getting your PC ready for online schooling and classes:
Ensure that your computer meets basic requirements.
Make sure you are using Windows Firewall.
Restart/ Reset your router.
Use a good Antivirus.
Use a Password Manager.
Make use of cloud storage to save important documents and files.
Keep your PC up-to-date.
Remove junk and unnecessary file regularly.
Install some stress-buster educational games on your PC.
1] Ensure that your computer meets basic requirements
First of all, you need to make sure that your PC meets the basic requirements for online schooling and classes. Here are some specifications that will be sufficient for your PC to take online classes:
Windows 11/10 or any other suitable modern OS.
A modern and up-to-date web browser like Microsoft Edge, Google Chrome, Mozilla Firefox, etc.
4 GB or higher RAM.
Webcam for video classes.
Microphone and speakers.
500 GB or higher hard drive.
High-speed WiFi is a must to avoid any internet lagging during online classes.
2.4 GHz Intel or AMD processor.
If your PC meets the above requirements, you can take online classes without any hassle. Now, let us check out what are the other necessary tips that you should follow to get your computer ready for online classes.
 2] Make sure you are using Windows Firewall
Windows provides a great built-in firewall called Windows Defender Firewall with Advanced Security. Make sure you are making use of it to protect your network from adversaries and block suspicious traffic. It is important as you will be online all the time. So, enable Windows firewall and block any potential threats to your PC.
You can also use third-party firewall software that provides good security. If you want to use a free one, there are plenty of them. For example, Comodo Free Firewall, ZoneAlarm Free Firewall, Sophos UTM Essential Network Firewall Free, and Free Firewall by Evorim are some good ones. You can check out some more free firewall software here.
Read: Hardware firewall vs Software firewall – Difference
3] Restart/ Reset your router
It is recommended by experts that you must restart or reset your router regularly. This clears up the router cache and creates a dynamic IP address whenever you restart your router. If there are any unwanted connections, this will help break them.
4] Use a Good Antivirus
We have already mentioned that you must use firewall protection on your PC. Along with that, you must enable antivirus on your Windows 11/10 PC. Preferably, choose an antivirus that provides real-time protection and web browser protection.
Microsoft provides Windows Security to keep your PC protected against viruses and malware. Make sure you have enabled it and run a virus scan from time to time. You can also use some other third-party antivirus that you prefer, such as Bitdefender Free Antivirus Edition, Avast AntiVirus, AVG Anti-Virus, Panda Free Antivirus, and some more. You can check out these free antivirus to choose a suitable one for your PC. There are some Free Cloud-based Antivirus that you can check out.
Tip: Free Standalone On-demand Antivirus Scanners for Windows
5] Use a Password Manager
Manage all your passwords so that you don't forget your login credentials when logging into your online classes. For that, it is recommended to use a password manager application available for Windows 11/10. There are apps like PassBox, Trend Micro Password Manager, F-Secure KEY, and more that you can use. Even popular browser like Google Chrome or Microsoft Edge comes with a built-in password manager to use. However, I personally recommend using an offline password manager as that is safer.
Also, keep changing your password as that is what all cyber security experts recommend. And, always use a strong password so that no unauthorized person can access your account.
Related: Is it safe to Save Passwords in Chrome, Firefox, or Edge browser?
6] Make use of cloud storage to save important documents and files
It is a usual practice in modern times to save your important data on cloud storage. No matter how careful you are, you might accidentally lose data saved on your computer. Also, with cloud storage, you can access your documents from anywhere. So, it is recommended to store all your important documents and files like assignments, academic documents, etc.
There are a lot of free cloud storage services that you can use. You can use Microsoft OneDrive; it provides 5 GB of free storage. Although, Office 365 subscribers can enjoy unlimited free cloud storage. Apart from that, you can also use Dropbox, Google Drive, or Amazon Cloud Drive. There are some more free encrypted cloud storage services to use.
Read: Best free secure online file sharing and storage services
7] Keep your PC up-to-date
Always install updates available for your PC as they are important for your system. These updates install important security patches and other new features that make your PC more efficient and faster. So, don't ignore new updates available for your system.
8] Remove junk and unnecessary file regularly
Do make sure that your PC is not too cluttered, so keep cleaning your PC regularly. Junk and unnecessary files can slow down your PC. So, delete temporary and junk files from your PC on regular basis. You can use the Disk Cleanup utility or Storage Sense that comes with Windows 11/10. Or, you can also use a popular freeware like CCleaner.
Read: Exercises for student computer users and office workers.
9] Install some stress-buster and educational games on your PC
To take a break from continuous studies and online schooling, install some nice stress-buster and educational games on your PC. Always take a break, play some games, and then get back to your studies without any stress. Here are some posts that might help you with games:
Best Family and Kids games for Windows PC
Best Free Children's Games for Windows PC
Best free Math game apps for kids on Windows 10 PC
Which is better laptop or computer for online classes?
We believe a desktop computer is better than a laptop for online classes. The reason being that your child will be forced to sit on a chair with a proper posture. If he/she uses a laptop, he may end up slouching on the couch or sleeping on the bed and that could be bad for concentration. But if the student needs to go to school or college often and take their device, then obviously a laptop would be the device of choice.
Computer requirements for online classes
This would depend on the kind of studies the student is involved in, If it includes video designing, image manipulations, etc, then high-end specs would be required. Otherwise, for normal school work, the following basics should suffice:
A good Internet connection
500 GB Disk
4 GB of RAM
2.4GHz or faster Procesor
Monitor and video card with 1024×768 or higher resolution
Keyboard, Mouse, Speakers, Headphones, Web Camera and a Mic.
Install the video conferencing software that may be recommended for you.
So the specs will depend on your requirements.
How much RAM do I need for online teaching?
For online teaching, the recommended RAM is a minimum of 8GB and ideally, 16 GB. Computers that have lower RAM run significantly lower. Teachers need a good-performing PC with good RAM as that makes the PC run smoothly and faster.
Hope this helps. Your suggestions are most welcome.
Now read: How to set up Windows laptop for Senior citizens.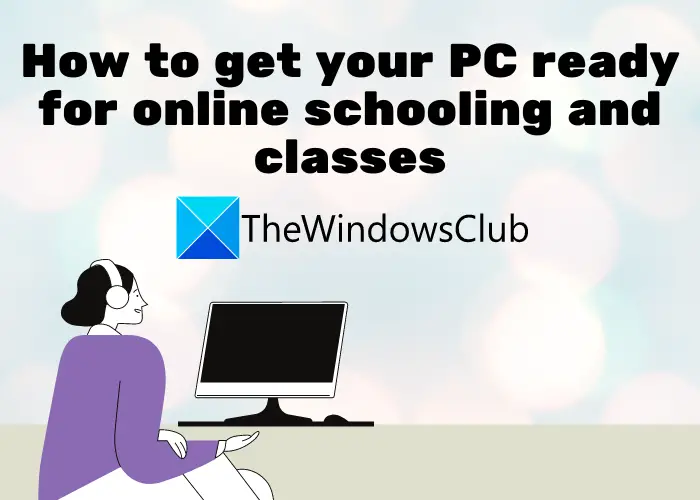 ---
— Update: 16-03-2023 — us.suanoncolosence.com found an additional article How to Choose a PC or Laptop For Online Learning from the website www.elearners.com for the keyword get your pc ready for online schooling and classes.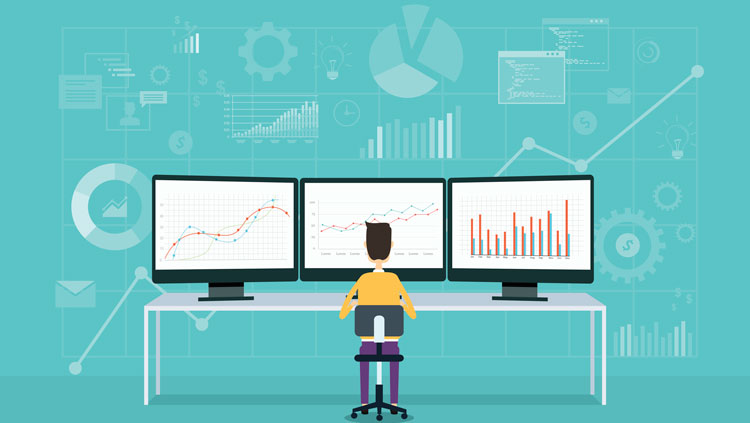 You're about to start your online classes and you want to make sure you have a reliable computer. When you start looking for a new computer, there is a lot of technical information that is important to understand. Before you get caught up in marketing gimmicks and sleek designs, take a moment to think about your technology needs. If you're one of those people who travel frequently and are able to concentrate while being surrounded by loud noisey people, a laptop is the best option for you. Laptops are portable and will help you get your work done in all kinds of situations. A laptop will help when you have to:
Type a paper in the doctor's waiting room.
Read your e-book at the airport.
Post a question during your lunch break at the diner.
Finish school work while you're on the train. 
If you have a fairly regular routine, and you prefer to study alone without distractions, then a desktop computer may be a better option for you. Though you aren't able to take a desktop on the road with you, they are typically less expensive than laptops, and are less likely to have hardware and software problems.
Ask yourself some quick questions about what kind of machine you'd like to have for your online classes:
Will you be traveling a lot during your classes?
Is there one place in your home where you can study?
Will you be studying in small increments, or in big chunks of time?
Are you able to study anywhere and with distractions?
Searching for the Best Laptop for Online Classes
Just like any purchase you want to make sure that you're getting the most bang for their buck. In particular, durability (can it withstand bumps?) and mobility (is it small enough to fit in a bag) should be top priorities. It would be worth looking into laptop screen sizes as well, because laptops are often catergorized by their screen size. It's not a bad idea to test the laptop out instead of shopping online for one. This way you can start typing and using the touchpad to getter sense of if it's the best laptop for you. Ask yourself is the cursor too senstive? Is it easy to navigate?  Here are some additional key features to look for when researching laptops:
Processors
Processors (also reffered to as a CPU or APU) mostly determine the performance of your laptop. Look to see if it has an AMD A series, or Intel Core i3/i5/i7. Granted these laptops with those professors are quite expensive, but the better the processor, the faster your computer can process your data.
Hard Drive
When comparing laptops, ask about the amount of space it has on its drive. A hard drive, or hard disk drive, refers to the place where data is saved. Think of it like this: your hard drive is like a book shelf. It's the place where you store all of your books. When you need a book, you take it off of the shelf. A hard drive is where you permanently store your data, and you can "pull it off the shelf" whenever you need it.
RAM
Check to see if it has at least 2 gigabytes (GB) of memory. A gigabyte is equal to one billion bytes of memory. A computer's memory is a lot like your short-term memory—the more memory a computer has, the more it can do at once. You want to have as much memory as you can afford.
USB Ports
Find a laptop with at least 2 USB connections/ports. USB stands for Universal Serial Bus, and it's designed to make it easier to use other gadgets with your laptop, like a printer and a flash drive.
DVD Burner
See if it comes with a DVD burner. If you are able to burn your own DVDs, you can save class projects on compact disc or backup older files.
Wireless
Pretty much every laptop now comes with Wi-Fi, but If you plan on taking your laptop everywhere to study, it will be important to buy something that has wireless communication. Wireless communication means you'll be able to access the Internet from any place that provides wireless Internet service (like airports, coffee shops, hotels, and your local library). If you're in an environment where there is no Wi-Fi, then if you have a smartphone, look to see if you can share your phone's internet connection with your laptop. This is called WiFi tethering. You can check with your service provider if you can connect internet to your laptop.
Operating System
Know if the it has either Microsoft Windows 8, 10, or if you prefer Mac see if it has Apple Mac OS X. The Mac OS X, El Captain is the latest OS for Mac laptops, so you may want to upgrade to this. Bascially, an operating system controls how memory is managed and how stuff is stored. You want to be sure you have a laptop with the latest and greatest operating systems.
Things to Know About Laptops
Size Matters
Probably one of the most important features of a laptop is its size. That's why we recommend you head to your local electronics store to find a laptop size that's ideal for you. Note: larger screen sizes tend be heavier laptops.
Keyboards
The feel of the keyboard is also an important feature to consider since it's something that cannot be replaced. While you are doing research at the store, make sure the keyboard is responsive to your typing, and the way the keys feel is to your liking.
Temperature
Watch out for overheating! Check if the computer's bottom gets uncomfortably hot when it's running.
Battery Life
Pay close attention to the laptop's expected battery life. Note: battery life is almost always less than what the manufacturer advertises.
About Desktop Computers
The price range for a reliable desktop starts at $500 and goes up to about $1,500 should be more than enough to purchase a desktop computer with an abundance of good features, like a dual-core processor (this feature is useful for homework assignments, photo viewing and editing, and managing MP3s/videos). At around the $500 range, you'll still be able to perform common distance learning tasks like using PowerPoint, Word, and Excel, but any kind of advanced graphic work will probably require more memory, hard drive space, and additional features.Below are a handful of features to research before buying a desktop computer.
Processors
See it if has an AMD A8-7600, AMD A10-6800k, Intel Core i7-4770k, or intel Core i3-4330. Again, these are different types of computer processors that we reccomend for best perfomance.
RAM
Take notice of the amount of RAM the computer comes with. RAM stands for random access memory. A good (and fast) desktop computer will come equipped with at least one gigabyte (GB) of DDR2 memory (which stands for "double-data-rate"). What the heck are we talking about? RAM is like short-term memory. The more RAM you have, the more your computer can do at once. The more short-term memory you have, the more you can multi-task, right? The same is true for your computer. DDR2 memory simply means that it runs really fast.
Hard Drive
Look for a 250 gigabyte (GB) hard drive. Again, 1 gigabyte equals 1 billion bytes. A 500-word document typed using Microsoft word requires about 25,000 bytes of space on your hard drive. So, if you have a computer that holds 250 billion bytes, it could store a million 500-word papers!
Graphics/Video Card
If possible, get something with a 128 megabyte (MB), DirectX 9-capable graphics card. A good video card (also called a graphics card) will help you view videos for class.
Monitor Size
When researching screen size, it's best to get something that measures at least 17 inches. Anything beyond 19 inches might be too big for your desk. Most desktop computers will come with an LCD monitor. LCD stands for liquid crystal display.
Speakers
Purchase a computer that comes with speakers. This way, you will be able to hear the sound on any lecture videos, or listen to music as you study.
Operating System
Microsoft Windows 8, 10, or if you prefer Mac see if it has Apple Mac OS . (See above in the Laptop section for more information about operating systems.)
Productivity Suites
Most computers come with software installed. There are two good options for software, which are Microsoft Works Suite 2010 or Apple iWork '09. 
Things to Know About Your Desktop Computer
User Feedback
It may help to ask around. Poll your friends and co-workers about the kinds of machines they have; where they bought them; if there were any problems; and whether they're happy with their choices.
RAM
The more memory, or RAM you can afford, the better off you will be. At the very least, your computer should have 256 megabytes (MB) of memory, though you are better with 512 MB if you can afford it. Remember, RAM is like short-term memory. More RAM means that your computer can multi-task better, and faster.
CD and DVD Burners
Consider purchasing a DVD or CD burner so you can back up valuable data (this will also allow you to make your own music CDs).
Monitors
LCD monitors are different than the computers of 1995, which had glass monitors. You want to avoid touching an LCD monitor, as it may cause permanent damage to the screen.
---
— Update: 19-03-2023 — us.suanoncolosence.com found an additional article Need an extra PC for working or schooling from home? Here are some solutions from the website www.usatoday.com for the keyword get your pc ready for online schooling and classes.
You're not alone if you've been faced with this dilemma: The kids are now schooling from home and each need a computer to attend classes and get work done, yet budgets are tight because of a lost job or reduced hours because of the pandemic.
To complicate matters further, parents may also be working from home this fall, and they, too, need a computer to get things done. And it may be your responsibility to pick one up in this B.Y.O.D. ("bring your own device") work world we're in today.
Understandably, you might not be able to afford a fancy new computer for everyone in the home. If taking turns with a desktop or laptop isn't a viable option, the following are a few suggestions and workarounds that won't break the bank.
Chromebook, headphones, desks:Virtual school supplies come with real spike in spending
Consider Chromebook
If you don't need a lot of power or storage – which might be the case with many online "cloud" services used for school or work – perhaps buy a computer that runs on Google's ChromeOS, as it will cost a lot less, on average, than a Windows PC or Mac.
For example, the Lenovo 100e 11.6-inch Chromebook sells for $169, and features an Intel Celeron processor, 4GB of RAM (system memory), 32GB of storage (but expandable with a memory card), several ports (USB-A, USB-C, and HDMI) and 720p HD webcam. In fact, this computer even dropped to $99 temporarily earlier this year, so keep your eye out for those kinds of door crashers (subscribe to alerts at Slickdeals).
For $189, there is the ASUS CX22NA Chromebook, which is also an 11.6-inch laptop with similar specs and battery life (up to 10 hours, like the Lenovo).
Ready for school:16 products teachers suggest for distance learning success
ChromeOS is a lean and secure operating system, but make sure it's compatible with the school or office before you buy.
Buy open box or refurbished – but with warranty
If you must, buying an open box or refurbished computer is another way to go, but only do so from a retailer that offers a decent warranty in case anything goes wrong. (The problem with buying over Craigslist, letgo or other online classifieds sites is you won't likely hear back from the seller if there's an issue.)
For example, Best Buy is selling an 11.6-inch HP Stream laptop, in white, for only $176, as it's an "open box" item. Specs include an Intel Atom x5 processor, 4GB of RAM, 64GB of storage and several USB ports. This product includes a 1-year manufacturer's warranty for parts and labor.
Similarly, you can snag a "pre-owned" Dell Venue Pro 5056 ($173) with a smaller screen (10.1 inches), but it's a touch-enabled and can be used in tablet mode when detaching the keyboard. Specs include an Intel Atom x5 Z8500 processor, 4GB of RAM and 64GB hard drive. This laptop has a 180-day manufacturer's parts and labor warranty.
A refurbished Lenovo ThinkPad X131e Chromebook 11.6-Inch laptop sells for $205 at Walmart.com's Marketplace, but there is no warranty unless you cough up at least $45 for a 2-year plan (and always read what's covered for repair or replacement). When in doubt, ask, or move on.
In other words, don't consider a "previously enjoyed" computer without any kind of decent warranty.
For kids who like to move:10 homeschool seating options for kids who love to wiggle
School tools:How to create an at-home workspace for online learning
Use smartphone or tablet + keyboard
Another – and increasingly popular – option is to turn another device into a laptop, of sorts.
If you already have a smartphone or tablet, you can also pick up a Bluetooth keyboard on the cheap, which will be more comfortable and accurate for longform typing.
Logitech, for example, has its K380 Multi-Device Bluetooth Keyboard ($40), a minimalist keyboard for computers, tablets and phones, and available in multiple colors (Rose, Off-White or Graphite). This keyboard works with Android, iOS (iPhone, iPad), Windows, Mac, Chrome OS, and Apple TV.
And for only $20 is this Arteck HB030B Universal Slim Portable Wireless Bluetooth 3.0, with has colorful backlit keys and built-in rechargeable battery. And it's highly rated, too: the average review score is 4.5 stars out of 5, among more than 11,000 customers.
Ergonomic considerations:How to keep virtual classes from being a real pain in the neck
Back-to-school shopping 2020:5 tips to get ready whether at home or in the classroom
A wireless keyboard paired with a smartphone or tablet should work well for basic tasks like word processing, web browsing, spreadsheet creation and presentations. Just be aware, you'll be working on a much smaller screen, which could make multitasking a little difficult (pro tip: you can often connect a phone or tablet to a big-screen TV or monitor).
You could also pick up a wireless mouse, too, to make it really feel like a laptop.
Before you buy, check in with your child's school (or company you're with) to double-check it will do the trick.
Other options
There are a few other considerations if faced with buying a computer you can't afford right now:
♦ Don't be shy in asking a friend or family member if they have a spare computer to borrow for the school year, or as a temporary loan for you to get work done. Or perhaps make them an offer to buy an older machine they're not using, which you can restore (factory reset) and use for basic tasks.
♦ While less convenient, your local library or community center likely has communal computers to use for school or work. Check with them to see if they need to be reserved ahead of time, and be sure to wipe down the keyboard, mouse and desk or table before and after you use it. Remember to log out of your accounts before you leave, as well.
♦ If it's a computer you need for work, talk to the boss discretely about not having a good computer to work from home, and see if there's something you can take from the office if it's not being used. Or perhaps there's a small budget you weren't aware of, for you to buy some tech. It doesn't hurt to ask.
♦ While you will end up paying more in the long run, some people will finance a laptop or desktop – either with the retailer (or in some cases, offered by an Internet Service Provider or even a cellular carrier) or by putting it on a credit card and paying it off over time. This should be a last resort, however, as you probably don't want to incur any more debt.
Follow Marc on Twitter: @marc_saltzman. Email him or subscribe to his Tech It Out podcast at https://marcsaltzman.com/podcasts.
---
— Update: 20-03-2023 — us.suanoncolosence.com found an additional article 39 Online Colleges That Offer Free Laptops and Other Tech Discounts in 2023 from the website www.accreditedschoolsonline.org for the keyword get your pc ready for online schooling and classes.
Online college is nearly impossible without a computer. To take classes, do homework, and communicate with professors, you'll need a reliable internet connection and a device that connects to it.
For that 10% of students who don't have a laptop, there are colleges that can help. Many schools with online degree programs offer technology assistance to students — and that often includes free or discounted laptops.
How to Get a Free Laptop for College
Many accredited online colleges offer free laptops and other perks like technology discounts, IT help, and free or discounted software. These perks may apply to all enrolled students or only those who meet certain eligibility requirements, depending on the school.
Some colleges offer free laptops through partnerships with stores and companies, while others may roll computer costs into student fees.
Additionally, some schools may require you to enroll full time to qualify for a free or discounted laptop, whereas others may only provide free laptops to incoming students.
Laptop ownership usually transfers to you permanently once you graduate or earn a certain number of credits. If you decide to withdraw from the school, you may need to return or buy the laptop you received from the institution.
If you don't qualify for a free laptop from your school, you can still try to save on laptop expenses. For example, you might use your tax refund or your financial aid package to buy an inexpensive laptop for college.
Alternatively, you could look into borrowing a laptop from friends or family or see if you qualify for a free laptop for college from one of the nonprofits listed below.
39 Online Colleges That Offer Free Laptops, Discounted Laptops, and Other Tech Perks
Many accredited colleges and universities offer technology services for online students. These services can include downloadable academic software and a virtual IT helpdesk. Certain majors may also receive special devices and software.
Eligibility criteria and program rules vary by school. Make sure to review your college's technology policies and programs.
Explore the table below to learn more about accredited online colleges with free laptops, discounted laptops, and other technology perks for students.
How Do Student Technology Policies Work at Online Colleges?
Technology is essential for online college, as most programs require a strong internet connection and a computer. If you plan to take advantage of a free laptop program, there are a few policies you'll need to be familiar with.
What Are the Best Laptops for College?
The best laptops for college have updated software capabilities, have an embedded webcam and microphone, and are student-budget friendly. Speaking of which, don't forget to take advantage of student discounts!
Here are four of the best college laptops for online students.
Best Laptops for College

| Model | Apple MacBook Air M1 | Microsoft Surface Laptop Go 2 | ASUS Chromebook Flip CX5 | HP Envy 13 |
| --- | --- | --- | --- | --- |
| Standard Features | Lightweight, long battery life | Portable, touchscreen | Chrome OS, tablet configuration | Touchpad, fingerprint reader |
| Price* | $974 | $599 | $699 | $679 |
| Weight | 2.8 lbs | 2.48 lbs | 4.17 lbs | 2.9 lbs |
| Storage | 256 GB or 512 GB | 256 GB | 128 GB | 256 GB |
| Display | 13.3 inches | 12.4 inches | 15.6 inches | 13.3 inches |
| Battery Life | 18 hours | 13.5 hours | 11 hours | 11 hours |
| Ports | 2x Thunderbolt 3, audio | 1 USB-C, 1 USB-A, audio | 1 USB-A, 2 USB-C, 1 HDMI, audio | 1 Thunderbolt 4, 1 USB Type-A, audio |
*Accurate as of Oct. 2022. Prices may fluctuate.
Frequently Asked Questions About Free Laptops for College
Why do I need a laptop for online school?
A laptop is essential for online college. You'll need to be able to send and receive emails, conduct online research, complete homework, and attend your classes, all through a computer.
A desktop computer can be a suitable alternative, but it won't afford you the same mobility and savings a laptop will.
What should I consider when choosing a laptop for college?
There are many features to consider when choosing a laptop for online school. First, make sure the computer's operating system is compatible with any software or programs you'll be using for your online program.
We also recommend considering features like battery life, ports, and webcam and microphone support. What's more, try to choose a laptop that suits your budget.
What is the best computer for college?
Some top-rated laptops to consider getting for college include the Macbook Air, the Microsoft Surface Laptop, the ASUS Chromebook, and the HP Envy.
That said, there's no single perfect computer for college. Each student will have different preferences and requirements. The best computer for you is one that matches your budget and meets your educational needs while functioning reliably.
Can you buy a laptop with scholarship money or financial aid?
Unless a financial aid source specifically notes it can only be used for tuition, you can likely pay for other school-related expenses with scholarship money, grants, and loans. That includes buying a computer or laptop.
You can also seek out scholarships or technology grants specifically for students who need laptops.
Does the FAFSA include laptops for college?
If you receive federal student aid through the FAFSA, you can use those funds to buy a laptop. FAFSA aid can also be used toward room and board, transportation costs, and textbooks. Most student-related expenses can be paid for with federal funds.
Next Steps
Source: https://www.thewindowsclub.com/get-your-pc-ready-for-online-schooling-and-classes