Once you finally start backing up your data (like you've been told to over, and over again), consider using a virtual hard drive (VHD). VHDs have been used by IT professionals for years in virtual machines and server applications, but you can also use them as a free, easy-to-use backup format—especially since the tools required to use it come with Windows
A VHD is a large container file that simulates the file structure of a hard drive. Think of it as a fancy ZIP file, but without the compression. Because VHDs are single files, they make handling and replicating your backups a cinch. They also allow for easy restores (more on that in a bit), and cross-application/platform compatibility.
A VHD file sits on the hard drive like any other file, however, so be sure you have enough space to accommodate it. And as soon as you're done archiving your files to the VHD, move the file to some other media, such as an external hard drive.
Many programs recognize the VHD format, including Oracle's VirtualBox virtual machine software, which is available for Windows, OS X and Linux. VHD files can also be accessed via local networks, the Internet, the SMB protocol, or removable media. Once "attached" to the system, VHDs can be treated just like external hard drives or USB sticks.
How to use a VHD
After you've created and attached a VHD file, you can back up to it using any means you see fit: a favorite backup program, or a simple copy and paste. I recommend the latter, or a plain-file (no compression) backup utility.
One of the chief advantages of a VHD file is that you can easily browse and restore files using nothing more than the operating system. Just attach it and browse for what you need.
Creating a VHD file
To create a VHD file, open Device Manager or press Windows key + S (in Windows 7, click Start), and  type diskmgmt.msc to access Windows' disk management features.
Open the Action menu and select Create VHD. You'll be presented with a dialog to name the VHD file, choose its location, define its size, and choose its format.
A VHD file can be of fixed size, or it can start small and expand as necessary (dynamically expanding). A fixed size is slightly faster and slightly more robust in power-off situations. The dynamically expanding option can be better if you need to save space.
Because storage space for backups fills rapidly, I generally choose to use dynamically expanding VHDs.
Note that the default size is defined in megabytes. Unless you're backing up nothing but text files, you might want to change the units to gigabytes or terabytes.
A VHD file can be up to 2.2TB. If you plan on using Virtual PC 2007, remember that Virtual PC can only use VHD files up to 127GB.
For easy management, name the file something meaningful. Don't use the same simple name as the partition you're backing up–that could get confusing. I use a combination of the name of the drive or partition I'm backing up, plus "backup," plus the date. For example, "Music backup 08 15 2014." The date makes it easier to find a specific backup if you create multiple backups of the same drive/partition.
Once you've created the VHD, it'll be automatically attached to the system.
Right-click the VHD, which should say something like 'DISK 2,' and select Initialize disk. Choose MBR (Master Boot Record) or GPT (GUID Partition Table) and let it initialize. Unless you've got a specific use in mind, GPT and MBR should work equally well.
Right-click over the area to the right that says unallocated, select New Simple Volume, then follow the wizard to create and format a partition.
I recommend naming the partition something meaningful. I use the same format as I described above: name + "backup" + date. Shorten or drop the date if it's too long.
Check Windows Explorer and you'll see the volume you created. You can treat it just like any other disk drive.
Attaching a VHD
To attach or mount an existing VHD, open Device Manager and select Disk Management, or type diskmgmt.msc.
Open the Action menu and select Attach VHD. Browse to the VHD file you want to attach and select it. If you're restoring from a backup, check Read-only to prevent accidental erasures.
The drive should grab a drive letter on its own, generally the one you assigned originally. If it doesn't, right-click over the partition in Drive Manager and select Change drive letter and paths.
Detaching a VHD file
Once you're through using the VHD, detach it from the system to save memory and to prevent possible accidents.
Open Device Manager to get to Disk Management. Right-click the header of the drive and select Detach VHD.
Note that the option 'Delete the virtual hard disk file after removing the disk,' is deselected by default. The option is in the same location as the 'Read-only' option when you attach a VHD, so choose your options carefully.
When you can use VHD for recovery
Using VHD for backups works best when restoring to the same hard drive, a larger hard drive, or the same model hard drive. In any of these cases, Windows System Restore will work like a charm.
If you're trying to restore to a smaller drive, as often is the case when users go from hard drives to SSDs, there are risks: The Windows restore routine can't adjust for the location of some files, which may be placed beyond the limits of the new drive.
For disaster recovery, you're better off with a program such as Acronis True Image that supports restoring to different hardware.
If you choose VHD as your backup format, just keep in mind what the format is good for and what it isn't, and you'll have a great backup solution that's easy to use and nearly effortless to move around.
---
— Update: 18-03-2023 — us.suanoncolosence.com found an additional article 7 Ways to Open Hard Disk Image Files via VDI & VHD Explorers from the website www.raymond.cc for the keyword create use virtual hard disk files as real hard disks in windows 7.
A virtual operating system, of course, needs a virtual hard disk to store its files. Software companies each have their own implementations of a virtual hard disk. Oracle VirtualBox uses Virtual Disk Image (VDI), VMWare uses Virtual Machine Disk (VMDK) and Microsoft products like Virtual PC or Hyper-V use Virtual Hard Disks (VHD or VHDX). Virtual disk formats are sometimes interchangeable between products. For instance, VirtualBox supports VDI, VHD, VMDK and a few more.
Sometimes it might be useful to read data or copy files from a virtual hard disk to your computer without booting into the virtual operating system. In that situation being able to open the virtual hard disk and read the contents is important. Also, you might want to delete, move or add files to the virtual operating system in the same way, perhaps to perform repairs to a non booting system or run offline Windows updates.
Here we show you ways to open virtual disk images with both read and write access for major virtual disk file formats VDI, VHD, VHDX, and VMDK. They are separated into read only and read/write methods. Make sure your virtual machine software is not running before trying to open the disk image, it also works more reliably when there are no snapshots attached to the virtual disk.
Read Only Access for Virtual Disk Files (VHD, VHDX, VDI, or VMDK)
There are many different ways you can access the contents of a virtual disk without actually booting into the virtual operating system itself. Here's a selection of easy solutions.
1. 7-Zip (VHD, VHDX, VDI, and VMDK)
7-Zip is probably the most popular free archiver and it includes the ability to open VHD, VHDX, VDI, and VMDK disk images. You can easily extract whatever files are required from the virtual operating system using drag and drop or copying to another location with the Extract button.
To open a virtual disk, right click on it and select Open archive from the 7-Zip context menu or open 7-Zip File Manager and manually browse for the virtual disk. Only single volume VDI's are supported which means if there is more than one partition the VDI image won't open. Multi volume VHD and VMDK files are supported although opening a VHDX image seems to be very hit and miss.
Download 7-Zip
---
2. Passmark OSFMount (VHD and VMDK)
Passmark OSFMount can handle VHD and VMDK virtual hard disks but does not support VDI image files or VHDX. The virtual disks are mounted as drive letters in this program which means they behave much like an ordinary hard disk while connected but are read-only.
After installing and launching OSFMount, press the Mount new button, this will bring up the mount virtual disk wizard. Firstly, browse for a virtual image file and then select a partition to mount from the available list. The wizard will jump to step 4 where you don't need to change anything apart from maybe the drive letter. Then simply press Mount.
To remove the virtual drive, open the OSFMount user interface, highlight the drive in the list and press Dismount or "Dismount all & Exit".
Download PassMark OSFMount
---
3. PowerISO (VHD, VDI and VMDK)
Although PowerISO is a shareware program costing $29.95, the trial version can be used indefinitely with a nag window on startup. It allows you to open and access disk image files, including VHD, VDI and VMDK images. The good thing about PowerISO is its ability to handle multi partition VDI virtual disks in addition to VHD and VMDK. Please watch out for the adware offered during install.
Click the Open button and browse for the disk image to load. A window will ask you to select which partition to import, only a single partition can be loaded but all usable partitions in the image file will be available. You can then drag and drop folders or files out of the window or click the Extract button and browse for a save location. The information bar offers a drop down to swap between available partitions inside the image file.
Download PowerISO
Read and Write Access for Virtual Disks (VHD, VHDX, VDI, or VMDK)
Being able to read and copy files from the virtual hard disk will probably be enough for many users, but there will be others that need to write files into the image without booting the operating system. These options can also be used for read only access in addition to the three above.
4. Mount VHD, VHDX, VDI, and VMDK Disk Images Using ImDisk Toolkit
ImDisk virtual disk driver creates and mounts virtual hard disks, optical disks, and floppies. ImDisk Toolkit uses the ImDisk driver but has an easy to use interface making the whole process much simpler. Both are open source.
2. Drag and drop the virtual disk image or use the browse button to locate it. A drive letter will be preassigned which can be changed from the drop down. For just read access tick the Read-only box. When using multi partition images you can select the partition to mount from the list at the bottom. Click OK to mount the virtual drive to the selected letter.
The virtual drive will appear in Windows like any other hard drive complete with read and write access. ImDisk Toolkit is able to mount static, dynamic and multipart virtual disk images. Because it uses its own driver, Windows 7 users can also open and edit VHDX files.
Unmount Virtual Disk Files From ImDisk
The easier option if you allowed the context menu shortcuts to be installed is to open Computer or This PC, right click on the virtual drive and select Unmount ImDisk Virtual Disk.
You can also use the ImDisk driver Control Panel applet. To unmount a drive open the "ImDisk Virtual Disk Driver" desktop shortcut or type ImDisk into Start, click on the virtual drive and press the Remove button.
There is also an Emergency remove option in the context menu to forcibly unmount the virtual drive.
---
5. Mount VHD, VHDX, VDI, and VMDK Disk Images Using Paragon Image Mounter
Image Mounter is a dedicated application from Paragon that includes support for VHD, VHDX, VDI, VMDK, RAW disk images, and Paragon's own pVHD format. One of its drawbacks is you have to create a free online account and the software can only be used on a single PC at a time. The license has to be released for use on another PC. You could also, of course, just create another free account.
1. Download Paragon Image Mounter and install.
2. After launching the program, click the plus button and browse for a supported file. It will be added to the My Images list.
3. Highlight the image in the list you want to use and click Mount at the top. Select the mode of Read-Write or Read-only and click Mount.
Drives that had a drive letter in the image should be mounted to separate drives on the host system. However, we did notice in Windows 7 that multi-volume VHD images were only loading the first available partition.
Unmount Virtual Disks From Image Mounter
Removing a virtual disk from the system with this program is very easy.
All you have to do is select a "Mounted" file from the My Images list. Click Unmount at the top of the window and then press the Unmount button.
---
6. Mount VMDK and VHD images With The VMWare DiskMount Utility
If you are someone that primarily uses VMDK and VHD disk images then a dedicated disk mounting tool from VMWare is a useful option. The DiskMount utility can also mount multi-volume VHD files for read and write but VDI and VHDX are not supported.
1. Download Virtual Disk Development Kit (VDDK) for vSphere 5.1.4 from VMWare which is 32MB. You will need to create a free account at VMWare before downloading any files from their website. Do not download a newer VDDK version as the DiskMount utility won't be included. Install VDDK.
2. Open a Command Prompt, the utility is located in the following location, for ease of use make it the current directory:
3. The commands are quite simple, this one will mount the first volume in the virtual disk:
The above will automatically mount the first volume in Image.vhd to drive V. To mount a volume which isn't the first in the virtual disk, add the /v:[number] argument. You can first check how many volumes are in the image with the /p argument:
The first command above lists how many volumes are in the VHD file and the second mounts volume 2 to drive V.
Note: Because this tool dates back to 2008, it has a major limitation when it comes to the virtual disk partition structure. It will not load GPT partitioned disks but MBR partitioned disks work as expected.
Unmount Virtual Images With VMWare DiskMount
To dismount a virtual drive from the system and free the drive letter, use the command:
Only the /d command is required for dismounting, the /f is optional and tries to force a dismount if the /d option doesn't work on its own.
Mount Virtual Images Easily With a DiskMount Batch Script
For convenience, we have created a simple batch script that will automatically mount the selected volume in a virtual disk to drive letter V.
Download DiskMount Batch Script
Download and extract the zip, then drag and drop a VMDK/VHD file onto the Mount_Virtual_Disk.bat file. It will list the available volumes and ask which one you want to mount. Press the corresponding number key and the volume will mount to the V drive with read and write access.
Run the batch file again for the option to dismount the drive or execute Unmount_Virtual_Disk.bat to silently dismount. Note that the VDDK needs to be installed to the default location in Program Files for the script to work. You can change that, the number of selectable volumes and the assigned drive letter yourself by editing the batch file.
---
7. Mount VHD and VHDX Using Windows 7, 8.1 and 10 Disk Management
Microsoft introduced a way of mounting VHD files as virtual drives starting with Windows 7. Like many Windows features the option is a bit hidden away. Do note that VHDX is supported in Windows 8 and Windows 10 but is not supported in Windows 7.
a) For Windows 10 users, it is incredibly easy to mount a virtual drive. All you have to do is go to the image file in Windows Explorer and double click on it or right click and select Mount.
b) Sometimes the context menu/double click is not available. This can be the case in Windows 7 and in Windows 10 if third party software has changed the VHD/VHDX file association. As an alternative, you can mount disk images through the Disk Management window.
1. Either type Compmgmt.msc into the Start Menu search box or right click Computer/This PC and click Manage.
2. In Computer Management, click on Disk Management and let it enumerate the disks on the system. Then right click on Disk Management and select Attach VHD.
3. Browse for the VHD/VHDX file or enter the path manually. Check the Read-only box if you want to read or extract files but not alter the image. Click OK when ready.
The VHD will be mounted and given a drive letter. If there are multiple partitions they will each be given additional letters. Mounted virtual drives will appear with pale blue icons in both the lower and upper panes of the Disk Management window.
The mounted virtual VHD will now be listed as a standard hard drive in Explorer with read and write access.
Detaching The Virtual Hard Disk
VHD files mounted in this way only stay mounted for the current session. When you reboot or shut down the computer they will automatically be detached. Here's how to manually remove the VHD or VHDX from the system.
a) You can detach all mounted volumes within the image by going to File Explorer, right clicking on any of the mounted drives and selecting Eject.
b) If you don't have the Eject option in Explorer available, you can again use Disk Management.
1. Open Disk Management and find the virtual hard disk you want to remove. Right click on the drive information in the lower window (where it says Disk #) and click Detach VHD.
2. Click OK to confirm the detach. This will remove all the mounted volumes in that image.
---
We have previously mentioned that Daemon Tools Lite is able to mount VHD, VDI, and VMDK images, and it still can. However, we think there are too many drawbacks with it and there are better options available.
---
— Update: 19-03-2023 — us.suanoncolosence.com found an additional article Easy VHD to Physical Disk Solution from the website www.easeus.com for the keyword create use virtual hard disk files as real hard disks in windows 7.
If you are looking for a way to restore VHD or VHDX to physical disk on Windows 10/8/7/XP, and even Windows server platforms, stay here. This page explains what is VHD and offers practical methods to help you convert a VHD to a physical disk without losing any data. 

What Is a VHD
According to Wikipedia, VHD, short for Virtual Hard Disk, is a file format that represents a virtual hard disk drive (HDD).
A VHD is usually used to emulate an actual disk storage device. You can save what is found on a physical HDD, such as disk partitions and a file system, files, and folders, etc., on a virtual disk. A virtual disk is used as the hard disk on a virtual machine.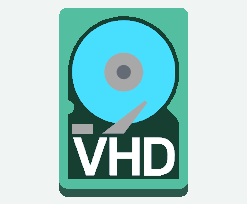 By using Disk Management, you can create as many virtual HDDs as you want on your computer. You can either save files, folders, etc. on the disk or you can also use the virtual disk to do some tests without hurting your real disks nor damaging your vital data.
Besides, it has many other advantages:
IT organizations can deploy standardized, 'pre-built' configurations on a single VHD.
Changes to the contents of a VHD are easily undone.
Many current operating systems support having multiple users but offer varying degrees of protection between them.
Apart from these advantages, it still has limitations.
The VHD has a maximum size limit: 2 TB for the size of any dynamic or differencing VHDs.
It only allows a maximum of 65535×16×255 sectors.
 Note that a virtual disk only works as a physical disk when the virtual machine is running. Once you shut down the virtual machine, you will no longer be able to access the VHD or the saved files on it.
Can I Copy VHD to Physical Disk
"I have a Lenovo laptop that runs Windows XP. At the same time, I set up Windows 7 on a VHD. Now I want to upgrade my computer from XP to Windows 7. But there is no straight upgrade path, and I have to copy VHD to a physical disk so as to move the content of the VHD to my real hard drive. But I don't know how to clone VHD to the physical disk? Do you have any suggestions?" 
"Hi there, does anyone know how do I convert a VHD disk to a physical disk? Or how can I restore the VHD space to my local hard drive? I'm about to upgrade my computer to the latest Windows 10 and I don't want to keep the VHD disk anymore. So how do I recover my VHD files to a physical disk?"
According to many VHD users, it seems that people tend to convert or restore VHD to a physical disk when they don't need to use a virtual machine anymore. In the following, we've connected the easiest VHD to Disk conversion solution to help you effectively restore a VHD file and its space back to a physical disk.
Best VHD to Disk Conversion Solution
Have you ever wanted to copy a VHD to a physical disk, or copy a VHDX file to a physical disk?
Mostly, when people want to do a complete new setup of the computer or virtual machine, they would choose to copy a virtual hard disk to the physical hard drive. Manually copying is files from the virtual disk to a physical disk is easy but time-consuming.
Here, on the following, we would like to offer you an efficient VHD to disk method. You can do this by using a VHD to disk migration tool – EaseUS partition software.
You can simply download EaseUS partition software – Partition Master, create a disk clone task, choosing the virtual disk (VHD, VHDX, etc.) as a source disk and the physical disk as the target disk, and then execute the disk copy operation. In this way, it allows you to easily duplicate the contents of the virtual hard disk to the physical drive.
When the process gets done, you may then restore the VHD space back to the physical disk by simply deleting the VHD file on your local disk. 
Tutorial: Steps to Copy the VHD to a Physical Disk
Follow the tutorial steps here to learn how to effectively migrate your VHD disk data to a local disk and restore the VHD space back to your computer.
#1. Copy VHD to a Physical Disk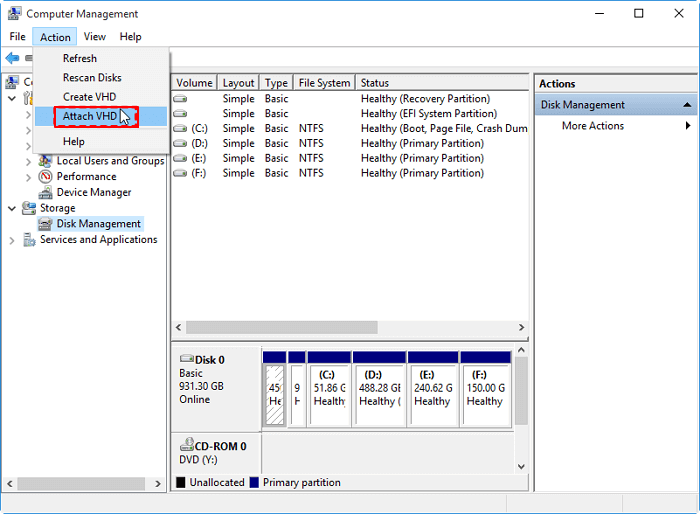 To obtain a smooth the VHD to a physical disk cloning process, remember to select an empty local physical HDD as your target disk.  If the target disk that you choose has partitions on it, the wizard will ask you to delete all the partitions on the disk. So back up your data in advance.
Follow the steps below to copy your virtual disk:
Step 1. Select the source disk.
Click the "Clone" from the left menu. Select the "Clone OS Disk" or "Clone Data Disk"  and click "Next".
Choose the source disk and click "Next".
Step 2. Select the target disk.
Choose the wanted HDD/SSD as your destination and click "Next" to continue.
Read Warning message and confirm "Yes" button.
Step 3. View the disk layout and edit the target disk partition size. 
Then click "Continue" when the program warns it will wipe out all data on the target disk. (If you have valuable data on the target disk, back up it in advance.)
You can select "Autofit the disk", "Clone as the source" or "Edit disk layout" to customize your disk layout. (Select the last one if you want to leave more space for C drive.)
Step 4. Click "Start" to start the disk cloning process.
If you need to re-partition the virtual disk after cloning, you can also apply EaseUS Partition Master with its advanced features to re-manage the disk. You may refer to Partition Hard Drive as a guide. 
#2. Convert a VHD to Physical Disk
After the cloning, you can now start to restore your VHD space to a physical disk with the following steps:
Step 1. Open Disk Management, right-click on the VHD disk, and select "Detach VHD".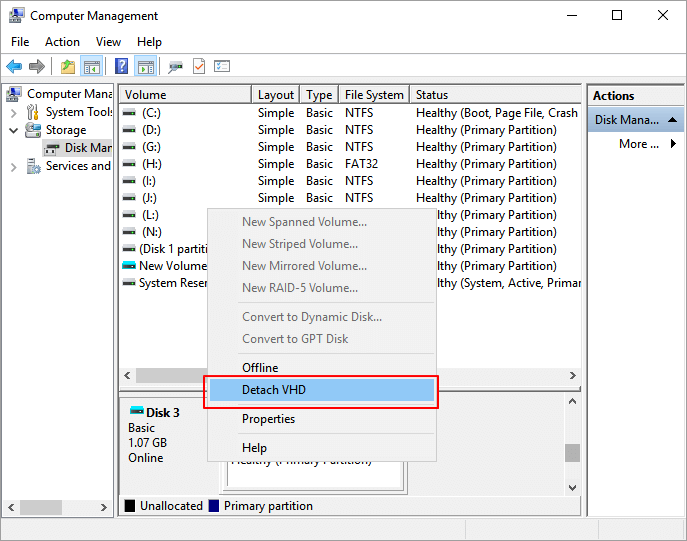 Step 2. Open Windows File Explorer and locate your local VHD file on your computer.
Step 3. Find the VHD file – .vhd or .vhdx and right-click to delete it.
Step 4. Confirm the deletion.
After this, you've successfully returned the virtual disk space back to the local disk on your PC.
Extended Reading
On this page, we introduced an efficient way to help users copy VHD content to local HDD and restore the virtual disk space to a physic disk. Aside from this issue, some users also have more questions about VHD and virtual machines. 
Here, we collected several questions and listed a brief answer to each question. If you have the same doubts, follow and check out the answers.
1. How to extend VHD disk size?
Mostly, once the VHD is created on the Windows computer, the size cannot be changed. If you need to extend the VHD disk size, you will need to delete the original .vhd file on your computer and then recreate a new VHD, setting a bigger size to it.
Remember to back up or clone the VHD disk data to your local disk first with the above-presented method.
Also, the ways to extend VHD disk size in Disk Management and virtual machine are different. Here is a brief guide:
To extend VHD disk space on local Windows PC:
First. Enter Disk Management, right-click to detach the VHD disk.
Next. Locate and delete the .vhd or .vhdx file on your computer.
Then. Re-enter Disk Management, and select "Create VHD" under the Action section, setting a bigger size for your new virtual disk.
To extend the disk space in Virtual Machine:
First. Open the virtual machine console, such as VMware Workstation > Click the OS and enter virtual machine settings.
Next. Select the Hard Disk > Click Expand > Set a new maximum size for your virtual disk.
2. How to recover VHD files?
When you mistakenly deleted or removed files on a virtual machine, you can first try to recover deleted files from Recycle Bin. If nothing appears, you can then try to install a file recovery software like EaseUS Data Recovery Wizard to scan and restore lost VHD files.
3. What's the difference between VHD and VHDX?
The biggest difference between VHD and VHDX is their storage capacity. A traditional VHD disk has a 2TB maximum capacity limit while the VHDX breaks the limit.
A VHDX supports to store up to 64TB in size. A VHDX format also works to prevent file corruption due to power failure. 
4. What is Disk2vhd?
Disk2vhd is a tool that creates virtual hard disk on physical disks for use in Microsoft Virtual PC or Microsoft Hyper-v virtual machines. Disk2vhd can run on a system that is online. Users can even create VHDs on local disk, preserving partitioning information of the disk and enabling users to capture just system volumes and exclude data volumes. 
Wrapping Up
This page covers a basic introduction of VHD and offers a straight forward way to help you convert VHD to physical HDD without losing any data. If you happen to have the same request, apply EaseUS Partition Master to copy your VHD content first and then delete the VHD file from the local disk.
You can also uninstall the virtual machine utility from your PC to free up more space for your PC. 
Source: https://www.pcworld.com/article/434781/virtual-hard-drives-the-it-pro-trick-that-lets-you-back-up-your-data-for-free.html